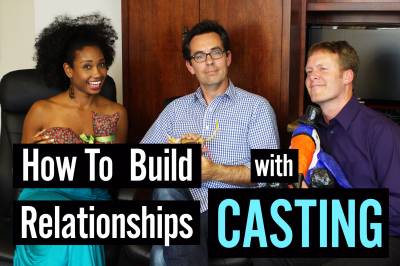 I've been getting the inside scoop on the tech side of casting from Blair Hickey and Brian Wold of CastingAbout, a Breakdown Services company. First we discussed exactly how the online casting process works, then we showed you what the submission platform looks like from a casting director's perspective so you can make your online submissions more effective.
But today is probably our most important conversation. How do you get to the place where it doesn't even matter how many submissions a casting director gets?
Picture this.
A lightbulb goes off as a casting director is reading a script.
She has three ideas for actors who would be perfect for this role. "Yes! This is great for (insert your name here), Avery and Jamie. I'll give them a call and then we'll put out a breakdown for everyone else."
THIS is the goal.
To get YOU on the short list.
To not even have to worry about the thousands of other submissions casting will receive.
Build relationships and the auditions will come.
Take a look at this video I shot with Blair and Brian. They offer some super practical, easy-to-implement tips to get you on the short list.
And if you already get a lot of auditions, we also talk about how to maintain relationships BEYOND your auditions. Because that is vital if you want to have a long career.

Our ARG Pro members and I use CastingAbout all the time, so I got you a deal. You can get yourself a week of CastingAbout absolutely FREE by going to CastingAbout.com/guru!
And be sure to subscribe to the ARG YouTube channel so you don't miss any of my videos.
I hope that helps! Comment and let me know how this changes your perspective on online casting. What's the next step you are going to take?
Ajarae Coleman | Acting Resource Guru